Fun fact: Zooey Deschanel is one of my long-enduring celebrity crushes. She's hilarious, classy, genuine, and I love all her acting roles and music. I may or may not have sent her fan mail once, and I may or may not have received an autographed photo in return, which may or may not be framed in my home…
Anyway, Zooey Deschanel was the inspiration for a character that I had a lot of fun with in my writing: Snow White!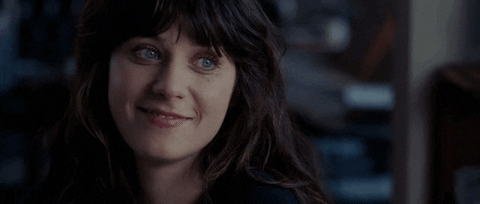 Since everybody knows Snow White in some form or another (Disney, Once Upon a Time, that Chris Hemsworth movie, the original fairy tale, I can go on and on…), I made it a goal to make her stand out among the other adaptations. She has her demons, but she's starting a new chapter of her life, and she picks her own apples now! There's no fooling her twice…
But of course, I don't want to give you her whole life story here. I'll let her do most of the talking here.
Jacob: So… wow. You'll have to forgive me. I know we've talked before, but I still get a little starstruck every time we do this. Snow White! Live in the flesh! I AM NOT WORTHY!
Snow: Oh, pshaw. How you flatter me! There's no need to–gosh, what's the word you use in this world? Fanman?
Jacob: Fanboy… I know, I know. I'll try to contain my emotions this. I'm just so excited to talk to you! You're an icon! Okay, I'm done now. Snow, tell me about your life! Readers are so curious to know about your role in THE CARVER. What can you tell them?
Snow: I can tell them that it starts off in the happiest time of my life. All the drama with my stepmother was far behind me, and I just tied the knot with the loveliest man in any world. When the story begins, I'm finally about to move in with him so we can start our future together! It's what I always dreamed of.
Jacob: Go you! Happily ever after, yeah?
Snow: Unfortunately, not exactly. But it starts off pretty wonderful.
Jacob: I interviewed Hansel last week and he told me all about your fantastic cooking. He thinks very highly of you! What's your friendship like?
Snow: We go back a very long way. We first met in this beautiful meadow where I used to go and gather flowers. One day I showed up, and he had already gathered a bouquet for me. One thing I can say about Hansel is that he's very sweet. He's a great friend. He just has some things to sort out in his life. And he knows this.
Jacob: That was sort of the impression I got from him as well. I once told my editor: I will know if I've made it as an author if I start to see memes and t-shirts rooting for Team Hansel, Team Pietro, or Team Liam. Obviously you're Team Liam! What can you tell us about the prince?
Snow: He's a dream. Sweet. Clever. Handsome. Charming, obviously. He's more than I deserve. One other thing I can say is that he doesn't know his own strength and everything he's capable of. On some level, I think he may even be afraid of his potential, because he doesn't try very hard to reach it. Although, to be fair, his tutor has always been a little, um, intense for my liking. The more Liam trains, the more he hates training. There's no violent bone in his body.
Jacob: Can we say the same about you?
Snow: *laughs* I think you might be surprised. It's the nature of the Old World. You need to know how to defend yourself in a land of dragons, witches, werewolves, giants, aquamantulas–
Jacob: Wait, did I hear that correctly? Did you just say aquamantulas? Are those what I think they are?
Snow: They're horrid.
Jacob: I'm just going to pretend I never heard that word. *flinches* What else do you want readers to know about THE CARVER?
Snow: The villain is terrifying. But I want to tell the readers not to be afraid because the good guys are strong. We've all been through some dangerous things that scarred us, but they also made us more resilient. I'm so much stronger after my sleeping curse. After all that rest I got, villains should be afraid of me. My husband and I are not to be messed with!
Jacob: Alright! *applauds* Villains of the Old World, beware! Snow, I am so excited for readers to spend time with you. It's really just an honor to tell this one chapter of your epic story. I hope I've done you justice.
Snow: Don't you fret, Jacob! If any aspiring writers are reading your blog, I'd like them to know this: when there's a story in your heart, you must tell it. The muse trusted you enough to put it there. You can't do it justice if you don't try.
Jacob: Wise words from the woman herself! Now I have just one request…
Snow: What do you desire? Make a wish!
Jacob: *embarrassed smile* I really wanna try one of your apple pies…
Snow: I think that can be arranged. Invite me back?
Jacob: That can always be arranged.
I hope all of you have the opportunity to enjoy your weekend and the start of your summer! Don't forget to stop by next weekend. You have a prince to meet!